Arcplan
Arcplan is a German based all-in-one BI, EPM and reporting vendor. Being European based, they are a little off the radar here in North America but have some interesting products. We'll take a look here.
For a small company, they offer a wide range of products. Between Enterprise, Edge, Mobile, and other versions,they offer traditional BI, planning and forecasting, ad-hoc reporting, and Excel Analysis. It could be a good option for a smaller company looking to consolidate vendors, but not quite able to afford IBM or Oracle suites.
A big selling point is their tight integration with third parties, including SAP and Oracle. The systems even have the ability to use Essbase data, which is somewhat of a rare feature. SAP data sources appear to be the sweet spot, as it has gotten quite a few SAP ERP customers.
Enterprise – This is the traditional business intelligence and analysis package. It includes basic and ad-hoc reporting, dashboards, and an OLAP or in-memory tool. Here's a look at the designer: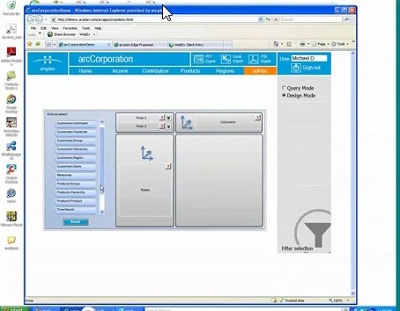 Edge – An all-in-one budgeting, planning, and forecasting tool.
Engage – The web-based integration tool. It can combine data from several sources, including other BI systems and even Sharepoint. Its designed to be more Web 2.0 like in functionality, with things like tagging
Excel Analytics – This is the Microsoft Office add-in which can take BI data from several source systems directly into Microsoft Excel.
A look at Arcplan Edge:

Mobile – View reports and data on mobile devices, including iPad, iPhone, Android and Blackberry. They are aggressively pushing this functionality. They are currently offering 10 free licenses with Enterprise deployments.
Spotlight – This is an ad-hoc tool used to get insight to data without necessarily connecting to a datawarehouse. It can use different OLAP sources and is setup as kind of a Tableau or Qlikview "lite".
Mobile iPad screenshot

They have a pretty big client list outside of the Americas. Some US big clients include Southwest Airlines and FedEx. Internationally their clients include UBS, Commerzbank, and Deutsche Bank. Not surprisingly, they have a strong market share in Germany.
Copyright 2011-2019 BusinessIntelligenceBase.com