Cognos Insight

Cognos Insight was recently released in Q1 2012 amidst much fanfare. Where does it fit in to the overall IBM analytics lineup? We'll take a look at some of the capabilities.
The naming convention that IBM is using is certainly confusing enough. They also have Business Insight and Cognos Consumer Insight as well, which are separate products. It sounds like a popular choice in the marketing department there! All jokes aside, the difference between this and Business Insight is that BI is used more to create dashboards, and is intended to replace the old Cognos GO! Product line and simplify the dashboard creating process. Consumer Insight is designed to analyze social media data from Twitter, Facebook and other platforms.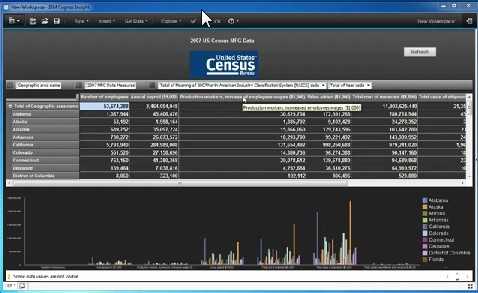 Cognos Insight was designed to compete in part with the newer breed of personal visualization tools, such as those from Tableau and Qlikview. Like those two tools, it's a desktop installation, which is a slight departure from the usual web-based Cognos 10.1 platform. The idea with this tool is that most of the analysis would be done at a personal level, so data is pushed to the desktop level where faster calculations and aggregations can be done. This solution uses an underlying TM1 architecture, so it uses the in-memory speed and analytics available there. The downside with the desktop solution is that the work and reports are done locally by that sole user. However, users can publish their edited local cubes and reports to the TM1 server as an instance so other users can share in the workload and reuse the model is available.
Some of the cooler features involve writebacks and the ability to add user defined rows. You can add additional data elements and populate them with data, using familiar quick key commands to quickly spread values throughout the sheet. This would be an interesting way to develop a proof of concept for a planning, budgeting, or forecasting model.
From a visualization standpoint though, it's definitely more limited compared to a Tableau type tool, with just a select list of graphs and options there. For cutting-edge dashboards, it's a little lacking.
IBM has priced this very aggressively at $500 user, at half the price of Tableau's Personal edition, which goes for $999 for a Personal Edition and much cheaper than Tibco Spotfire's tool as well.
Copyright 2011-2022 BusinessIntelligenceBase.com